Rofori Completes Successful Public Beta Test of Team Collaboration Cloud Service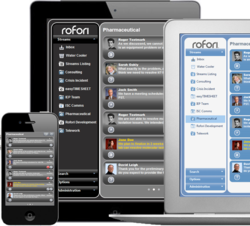 Rofori Corporation, a cloud service company with a focus on providing collaboration technology with user-defined stream communications structure and alerts to improve electronic messaging, is pleased to announce the successful completion of its public beta test. Participants provided feedback that led to rofori enhancements including simplified navigation, LinkedIn profile integration, user-defined alerting of stream message types, people, and select email address alerts. With rofori, you can interact in team-centric collaborative streams, monitor, share files with Dropbox file storage, and analyze message activity.
Manassas, VA (PRWEB) November 30, 2012
Rofori successfully completed a public beta test of its cloud service that enables businesses and organizations to migrate to an electronic messaging and collaboration environment that significantly improves communications productivity and continuity of operations. The rofori user-configurable console proactively polls all messages to alert by message type, people, graph, and emails. Cloud file storage is available with rofori file storage and/or the integrated Dropbox file storage option. With natural structuring of messages when created, rofori enables an intuitive and easy way to search information and dialogue instantly. Generate instant status reports based on stream posting categories and message types. Rofori leverages a design based on the end user experience, maximizing flexibility and depth of features, while maintaining ease of use.
For the original version on PRWeb visit: http://www.prweb.com/releases/prwebcollaborate/innovation/prweb10186780.htm