STX Named a Baltimore Sun Top Workplace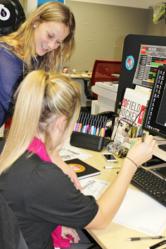 Employee survey recognizes STX as one of the top places to work in Baltimore.
Baltimore, MD (PRWEB) December 05, 2012
Baltimore-based STX, LLC, a global sporting goods leader, is pleased to announce that it has been selected as one of The Baltimore Sun Top Workplaces for 2012. The award recognizes Baltimore area businesses that employees find rewarding, motivating and meaningful to work for.
Employees were surveyed on important organization qualities including company leadership, career opportunities, workplace flexibility and compensation. STX is one of 80 companies in Baltimore to be named a Top Workplace this year.
"We are honored to receive this award from The Baltimore Sun and especially from our employees," said Jason Goger, General Manager at STX. "This award is particularly important to STX because we strive to create a workplace with talented, entrepreneurial-minded professionals who share our commitment to 'Never Stop' innovating."
STX employees felt that their organization has a clear sense of direction, brilliant execution and innovation and makes them feel valued. Employees also agreed that new ideas are encouraged within the company and that their jobs have exceeded initial expectations.
The Baltimore Sun published the complete list of Top Workplaces on Sunday, December 2nd. To see STX's highlight in the Top Workplaces, please visit The Baltimore Sun.
The survey was conducted by WorkplaceDynamics, LLP, a leading research firm on organizational health and employee engagement.
About STX:
STX is a global sporting goods leader in the sports of lacrosse, field hockey and golf. With its 1970 introduction of the first synthetic lacrosse head, STX ushered in the "modern era" of what is now the fastest growing team sport. Based in Baltimore, the home of lacrosse, STX has been universally recognized for innovation in product design and development. STX continues to strive for new performance standards in sporting goods equipment at the highest levels of competition. For more information, visit http://www.stx.com.
###
For the original version on PRWeb visit: http://www.prweb.com/releases/prwebSTX/TopWorkplace/prweb10204040.htm