"Club 64," Americas First Legal Recreational Cannabis Club Opening Today at 4:20 p.m.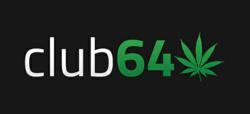 With the passage of Amendment 64 legalizing recreational cannabis in Colorado, where can people who prefer marijuana over alcohol use cannabis safely? Americas First Recreational Cannabis Club, "Club 64" opening December 31, 2012 in Denver Colorado, will provide this dream place for the cannabis consumer.
Denver, Colorado (PRWEB) December 31, 2012
Club 64, LLC, will open at 4:20 p.m. on December 31, 2012, in a location disclosed to members only through the website Club-64.com. At Club 64, there will be private legal usage of cannabis, where people will exercise their constitutional right to celebrate and make history. This marks the first-ever legal gathering in a chartered members-only club devoted to the use of cannabis, as permitted by the Colorado Constitution, Article XVIII section 16 (Amendment 64). Membership will be available to deserving individuals invited to join the exclusive club. The Club operates in compliance with applicable laws.
Media inquiries can be made to Club 64's General Counsel, Robert J. Corry, Jr., a leading cannabis attorney who was recently personally profiled in a Denver Post Editorial Board piece. It is rare for the State's largest newspaper's Editorial Board to editorialize about a specific individual, but Corry is personally credited with Colorado's legalization of cannabis.
"Club 64 is a legal cannabis club, the first of its kind since the voters of Colorado wisely cast off the shackles of Prohibition," stated Corry. This will be a great way to ring in the New Year for Members, with music, dancing, conversation, and Cannabis." For more information go to http://www.Club-64.com.
FIRST LEGAL PRIVATE CANNABIS CLUB
CONTACT:
Robert J. Corry, Jr. Esq.
General Counsel, Club 64
600 Seventeenth Street
Suite 2800 South Tower
Denver, Colorado 80202 USA
Cellular Telephone 720-629-7112
http://www.RobCorry.com
Robert.Corry(at)comcast(dot)net
http://www.club-64.com
https://www.facebook.com/pages/Club-Sixty-Four.com

For the original version on PRWeb visit: http://www.prweb.com/releases/prweb2012/12/prweb10281864.htm