In The Event Provides Full 3D Rendering for Corporate Event Clients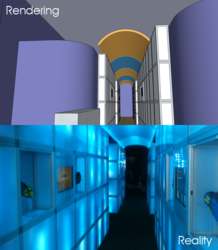 In The Event provides interior design and 3D renderings as an extension of current design capabilities for corporate clients
Salt Lake City, UT (PRWEB) January 31, 2013
In The Event, a full service event production and design house, has the ability to provide clients with a full 3D rendering of their event. The company specializes in corporate events, ranging from small holiday parties to conventions with 10,000+ attendees. They provide high quality 3D renderings for their clients that are to scale for the event space, showing all event decor and details. In The Event's 3D rendering capabilities enables the company to layout the rental items within a space prior to an event, ensuring their are no surprises to the client on the day of.
When designing a large-scale event, "it is very beneficial to provide clients with a 3D rendering of their event, giving them the ability to see exactly what the design will look like before making a commitment. This capability gives In The Event a strong competitive edge," says Robert LaSpina, In The Event Founder and Vice President. By creating a virtual environment for their clients, In The Event can apply marketing and branding elements to a space. This provides the opportunity to explore and execute the client's event goals, while also providing the ability to determine the best possible layout for the desired atmosphere of the occasion.
In The Event's team consists of four certified interior designers, ensuring their event layouts are designed with traffic flow, space planning, and scale of decor relative to the venue space in mind. The interior designers at In The Event can create everything from renderings of stage decor to a virtual walk-through of an entire event space. Additionally, the sales staff works closely with their clients from concept to creation, allowing for the majority of decisions and design to be preplanned for a smooth execution on the day of the event.
As an extension of their services, In The Event provides in scale 3D drawings for their interior design clients as well. Offering interior design services to their corporate customers was a natural progression for the company. In The Event has designed multiple corporate offices and store fronts, most recently including a revamp of the Young Living corporate headquarters in Lehi, Utah.
In The Event is a full service event design company providing the ultimate in products and services to clients throughout the U.S. Their ability to transform your desires from concept to reality makes for an exciting and cohesive planning process. You'll receive the best products and services available while staying in line with your budget. Please visit http://www.intheevent.com for more information.
MEDIA CONTACT: Ali Dempsey, In The Event, (801) 448-2343, adempsey(at)intheevent(dot)com
For the original version on PRWeb visit: http://www.prweb.com/releases/prwebInTheEvent3DRendering/CorporateEvents/prweb10386400.htm