Monster House Plans' 3D Intelligent House Plans a Big Hit with the Public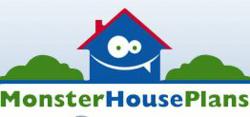 Having the ability to view in-depth construction details is receiving favorable reviews in reference to a Spokane-based home plan company's Intelligent House Plans
Spokane, WA (PRWEB) February 11, 2013
Monster House Plans ( http://www.monsterhouseplans.com ) prides itself in making smart decisions in an effort to reach greater heights as a company while improving customer satisfaction, and thanks to the Intelligent House Plans it added a year ago, customer satisfaction is at an all-time high.
Monster House Plans' Intelligent House Plans, according to company president Jeff Spring, has received rave reviews from both current and new customers.
"I am so very excited to see the 3D plans," said a customer, Amy T. "I feel like I'm in an HGTV dream."
Another customer, Steve B., said the 3D views really give the 2D prints depth.
"They look great," he said.
The Intelligent House Plans give customers access to multiple perspective views and construction detail, company representatives say.
"No special software is required as the model is delivered as a standard PDF file," Spring said, before adding, "This will allow you and your builder to have complete understanding of the designer's intent, verify constructability, preview and alter material finish selections used in the modeling process, and so much more."
Charlotte Z. said she really appreciates the versatility of the Intelligent House Plans. "The plans look great," she stressed.
Customer Cindy D agreed. "The 3D house plan looks great."
Monster House Plans, a company that has pre-drawn stock house plans that aims to save customers thousands of dollars when compared to starting from scratch with a professional designer or architect, added the Intelligent House Plans because it gives those who are looking for the perfect home plan, access to unlimited perspective views and construction detail.
"Home plan purchasers can view 3D models from multiple vantage points, which gives then assurance that the design through and through is of the highest standard," Spring said.
Monster House Plans Architect Brian Pilling said the difference between its Intelligent House Plans and typical stock plans "is the difference between high definition television and black and white."
For more information about Monster House Plans, please visit: http://www.monsterhouseplans.com/build_info_modeling.html
About Monster House Plans
Our commitment to provide you with exceptional house plans at affordable prices has made us a leader in providing house and floor plans in North America.
With our staggering collection of over 23,100 house plans, you are sure to find a plan that meets your dream home criteria.
We offer over 35 styles to choose from including Mediterranean, Italian, Greek or French house plans, traditional, country or contemporary home plans, as well as waterfront, craftsman and log home plans.
We are truly a one-stop shop for house plans on the Internet. Search for Monster House Plans on Google: http://goo.gl/f8ShO
###
For the original version on PRWeb visit: http://www.prweb.com/releases/prweb2013/2/prweb10417088.htm