National Railway Historical Society Unveils Centennial Plaque for 100th Anniversary of Grand Central Terminal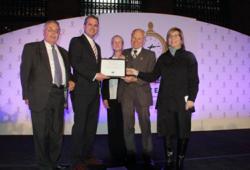 NRHS joins birthday celebration, names New York City terminal to National Register of Historic Railroad Landmarks.
Philadelphia, PA (PRWEB) February 15, 2013
The National Railway Historical Society (NRHS), America's largest railroad preservation organization, has added Grand Central Terminal in New York City to its National Register of Historic Railroad Landmarks.
In honor of the designation, an 18' by 24' bronze plaque was unveiled at the terminal's 100th anniversary celebration on February 1. The plaque is mounted near the doors to the customer waiting area and stationmaster's office.
NRHS officials participated in the centennial tribute, which included presentations and remarks from celebrities, elected officials and the New York preservation community. Global Director Walter Zullig, Jr., National Director Mia Mather and New York Chapter President Albert Papp, Jr., presented an award to George Monasterio, Metro-North's Chief Architect, and Karen Timko, the railroad's Director of Environmental Compliance.
Grand Central Terminal is the 18th landmark announced by NRHS since the register was created in 1959 to recognize uniquely historic railroad structures and equipment. Other sites include: Horseshoe Curve in Pennsylvania, Union Station in Portland, Oregon, the B&O Museum and Mount Clare Shops in Baltimore, Maryland, the Southern Railway Station in Knoxville, Tennessee, and Chicago Union Station in Illinois.
"Grand Central is not only a magnificent landmark, but it is said to be the second largest tourist attraction in New York City -- second only to Times Square," said Zullig. "It has been beautifully restored and we felt that it was especially appropriate to recognize this building in the year of its 100th anniversary. Today the terminal sees over 700,000 people a day and is a tribute to the foresight of the engineers and architects who designed and built it over 100 years ago."
About NRHS
Founded in 1935, the National Railway Historical Society (http://www.nrhs.com/) preserves and raises awareness of America's threatened railroad heritage. NRHS operates historic rail excursions and tours throughout North America and supports more than 150 regional chapters. During the past 10 years, the non-profit organization has awarded more than $500,000 in railroad preservation grants; it also sponsors RailCamp, a summer orientation program offering high school youth hands-on experience in the railroad industry.
Media Contact:
Elrond Lawrence
Director, NRHS Public Relations
831-632-2183
elawrence(a)nrhs.com
For the original version on PRWeb visit: http://www.prweb.com/releases/prweb2013/2/prweb10436196.htm