Brand New Besttoolbars Custom Browser Tool Announced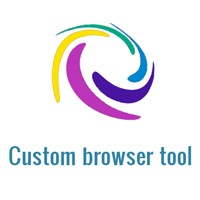 A new tool developed by Besttoolbars enables clients to make their own custom, branded browsers as an extension of their marketing, sales and other campaigns.
Alexandria, Virginia (PRWEB) February 20, 2013
Browser add-on and toolbar development agency, Besttoolbars has today announced the launch of a brand new custom browser tool. The new tool was developed in house by Besttoolbars and will enable clients to make their own custom, branded browsers as an extension of their marketing, sales and other campaigns. It can be combined with other options such as Besttoolbars build browser add-on framework or used as a standalone tool.
Software users employing the new release will be able to quickly develop custom browsers based on a Chromium open source browser. The user has full control throughout the development process. Rich in functionality, the Besttoolbars custom browser package is designed to be easy to use right out of the box. It provides a range of branding and customization options, including the addition of a company logo, naming rights and the possibility of pre-determining the default search engine used by the browser. This preset is particularly of interest to organizations who have previously used Besttoolbars search engine solutions. The chosen default search engine cannot be overridden by any browser plug ins or third party tools after being set, affording the browser developer complete control.
Vladimir Zhukov, Head of Marketing at Besttoolbars said, "We're delighted to unveil our new Besttoolbars custom browser tool today. It is a project that has been very close to our hearts for some time and is a natural extension of our other services, products and tools. We are constantly looking for new ones to support our clients as they build browser add-ons and seek to engage with their audiences and look forward to seeing the first custom browsers come to life."
Additional functionality includes the option to easily integrate the developers own browser extension (or extensions). These extensions cannot be deleted from the custom browser by any third party tools which may be installed later, or by the user themselves. This makes the browser more valuable to the user. Additional plug ins can be permitted or prohibited at the discretion of the browser developer – ideal if the developer wants to spend time and build browser add ons later.
As the custom browser belongs to the browser developer, it is not tied to the policies of third party browser add-on galleries, giving a range of options for anyone developer who wants to build browser add ons to be rolled out with the browser itself. This means for example the browser can be integrated with the developer's own advertising platform or search engine without being afraid that Google will ban it from its add-on gallery.
The browser user interface can be extensively customized, with a much broader range of personalization options and layout tweaks than a regular browser extension alone provides.
To find out more about Besttoolbars' new custom browser tool please visit http://www.besttoolbars.net
About Besttoolbars: Besttoolbars is a company well known for creating browser toolbars and add-ons. It has worked with an array of global brands, from start-ups to high-profile Fortune 500 corporations including Amazon, Skype, IBM, DHL, TNT and Intel. More than 7000 companies currently use solutions created on the Besttoolbars platform. Its product line includes:
Toolbar Studio: IDE for designing toolbars for Internet Explorer and Firefox
Add-ons Framework: Framework for building add-ons for Internet Explorer, Firefox, Chrome, Safari, and Opera
Besttoolbars also offers a number of services to help businesses integrate their products with desktops and mobile phones. It provides custom browser development, add-ons, add-ins and mobile app development.
For the original version on PRWeb visit: http://www.prweb.com/releases/prweb2013/2/prweb10444977.htm