DeltaMaker Builds Successful 3D Printer Layer by Layer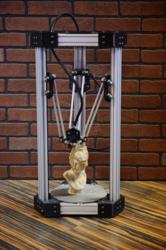 DeltaMaker raises funds on Kickstarter to produce latest, personal 3D printer.
Orlando, FL (PRWEB) February 20, 2013
What makes a 3D printer successful? Crowdfunding the entire idea in just a few short days on Kickstarter. DeltaMaker did just that with its all-new, personal and affordable 3D printer by reaching their $107,000 goal long before their campaign was scheduled to end. With a truly elegant design, DeltaMaker allows form and function to seamlessly exist.
DeltaMaker is the first in its class to highlight not only finished prints, but the act of creation as well. Fit for classrooms, waiting rooms and living rooms, DeltaMaker proves that 3D printing doesn't have to be a "behind-the-scenes" process. Imagine looking at a work of art vs. watching while it's being created; when the DeltaMaker is operating, the machine is art-in-motion, and what it's producing is also a intricate and beautiful.
The DeltaMaker offers 100 micron layer resolution capabilities while performing fused filament fabrication (FFF) with 1.75mm PLA or ABS plastic. With a 10" diameter by 11" tall build envelope, DeltaMaker offers an efficient footprint to build envelope ratio allow large prints with a compact desktop footprint.
"We need the Kickstarter community so that we can take this product, purchase and produce its components in large enough quantities and deliver it to the market at a reasonable price," says Zack Monninger, co-creator of DeltaMaker. "…and it's the Kickstarter community that's going to enable us to do this in a way that, a few years ago, you never would have had the option to do."
DeltaMaker is currently available on Kickstarter for the affordable price of $1,599 ($1,499 for students and teachers), and will ship to backers this coming August. Additionally, the team behind DeltaMaker is offering other rewards, such as DeltaMaker T-shirts and mini DeltaMaker desktop organizers, in exchange for supporting their project.
To learn more about the new DeltaMaker 3D printer or to support the project by making a donation, visit http://bit.ly/DeltaMakerKS before the crowdfunding campaign ends on February 28 at 11:59pm EST.
About DeltaMaker
DeltaMaker, created by Zack Monninger, Craig Rettew, Robin Lopez and Bob Houston is headquartered in Orlando Florida. With degrees in Mechanical Engineering, Electrical Engineering, Aerospace Engineering and Software Engineering, the team at DeltaMaker is poised for success in the 3D printing world. To learn more about the company and its new product, visit http://www.deltamaker.com, Like them on Facebook at https://www.facebook.com/deltamakers and Follow them on Twitter at https://twitter.com/deltamaker.
For the original version on PRWeb visit: http://www.prweb.com/releases/prweb2013/2/prweb10450426.htm