Documentation Toolkit for SharePoint v3.0 – Compatible with SharePoint 2013 with Powerful new Features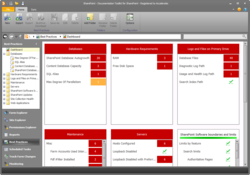 New version 3.0 helps SharePoint administrators generate even more detailed and professional looking documentation, along with additional reports and information about farm health in a single console. It will be useful for SharePoint 2013 upgrade process and day-to-day SharePoint maintenance and monitoring tasks.
Zagreb, Croatia (PRWEB) February 20, 2013
Acceleratio Ltd., an innovative and fast-growing software development company, has released version 3.0 of Documentation Toolkit for SharePoint. This powerful time-saving application is used in more than 30 countries worldwide on thousands of servers. The new version fully supports SharePoint 2013, 2010 and 2007. Novelties include Baseline Farm Compare (compare your SharePoint default settings), Monitoring Farm Health, documentation for SharePoint App Store and a lot of new Best Practices Reports.
A number of existing features were redesigned to improve usability, such as a more user friendly Compare Wizard, redesigned Best Practices Dashboard and a number of new options in the Permission Reports section. Advanced Account Mapping allows administrators to compare farms with different service accounts.
"With every new release SharePoint introduces a number of new and cool features and administrators need a tool to help them manage SharePoint farm infrastructure in perfect order," said Toni Frankola, CEO Acceleratio Ltd. "With Documentation Toolkit for SharePoint administrators can focus on designing a new system, while our product tracks all the changes, documents farm configuration, permissions and much more across their entire organization."
PREPARE FOR SHAREPOINT 2013 UPGRADE
There is no in-place upgrade path from SharePoint 2010 to 2013, but with Documentation Toolkit administrators can compare their existing 2010 farms with SharePoint default - baseline settings. This can come in handy in many situations including when upgrading to SharePoint 2013 or when you need to provision a new Development, Test, Production or Staging farm. With our tool you can easily save farm configuration and easily compare it with the new one you are currently building. It does not really matter if farms are not connected or not a part of the same cloud infrastructure or domain, comparison is made solely between the files.
SIMPLIFYING YOUR DAY-TO-DAY SHAREPOINT MAINTENANCE TASKS
Best Practices reports were created based on Microsoft SharePoint recommendations. SharePoint offers an increasing number of settings and it is hard to track if a farm is set and works properly. Our new Best Practices Dashboard has been designed for easier overview and access to all information. The tool now also performs the following checks: Backup checks, SQL checks, Service Applications checks (verify that Service Apps are running properly), and if you are running the latest version of SharePoint updates. Best Practices reports come in two flavours: built-in best practices reports and custom Best Practices reports that users can create on their own, enabling administrators to create best practices checks as they see fit.
A whole new section has been introduced to allow administrators to gather information about farm health from Windows Event Log and SharePoint ULS logs across all servers in your farm. This tool saves time and helps easier troubleshooting of issues in multi-server farm environments. Administrators will benefit when examining errors in our "mega monitoring view" that combines multiple servers and multiple sources (ULS and Windows Events) on a single view.
Documentation Toolkit for SharePoint provides flexible licensing according to the number of farms or consultants, so every company can get the perfect license solution according to their needs. License pricing starts already from $299, more details about licensing and editions is available on http://www.spdockit.com/orders/ and Documentation Toolkit for SharePoint v3.0 can be downloaded for 30-day trial version.