Swag Soft LLP Announce "Pop Rocks World" Price Drop and Launches Once-in-a-Lifetime Contest for Aspiring Singers Who Want a Shot at Global Superstardom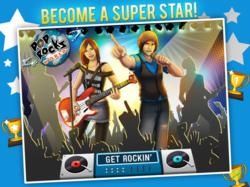 Pop Rocks World for iPad from Swag Soft is now available at no cost. Plus, aspiring singers who dream of showcasing their talents worldwide – and possibly earning the attention of music executives, agents and talent scouts – can enter the company's new YouTube contest, and possibly launch themselves towards fame and glory.
Cupertino, CA (PRWEB) February 20, 2013
Swag Soft LLP, the creator of Pop Rocks World -- the popular, unique and addictive music RPG game app for iPad -- has taken things to the next level with two major announcements: the app is now available at no cost, and aspiring singers from around the world can compete for a once-in-a-lifetime chance at global publicity – and potential superstardom.
In Pop Rocks World, gamers are taken on an unforgettable journey that simulates the career path of a budding music mega star. They start out as unknowns performing in parks and pubs, and then through luck, talent and plenty of hard work, they climb the ranks to strut their stuff in front of thousands of adoring fans in huge stadiums. Plus, for even more realism and fun, gamers can:

Produce and release albums in a variety of musical genres
Battle with other players worldwide
Spot their favorite celebrities and challenge them to music showdowns
Hire record producers, sound engineers and songwriters
Get "glammed-up" in the hottest fashions, play killer instruments and drive elite cars
Send out global announcements to the entire Pop Rocks world
Win music awards to celebrate their accomplishments – and brag!
Of course, just like real life, stardom in the Pop Rocks World can be fleeting. Gamers who make it into the limelight won't be able to rest and relax, because other players will be vying for their fans, fame and moolah.
And now, would-be singing superstars from around the world can upload a video of their performance to YouTube – whether it's an original composition or a cover – and enter for a chance to be featured as one of the special celebrities in the app's "Pop Rocks Arena."
The contest will be launched every two months, with one winner selected in each cycle. Winner selection will be based on a combination of views, likes, comments from viewers, and talent. Entrants must mention Pop Rocks World at the beginning of their video, state that they're entering the contest, invite viewers to vote for them, and include a link to Pop Rocks World in their description.
"Our new contest is a once-in-a-lifetime opportunity for aspiring singers to increase their popularity worldwide, and possibly earn the attention of real-life music executives, agents and talent scouts!" commented Aldric Chang of Swag Soft LLP. "And even for those who aren't interested in entering the contest, they can now download the app at no cost, and enjoy hour after hour of fun, competition and of course, amazing music!"
Gamers can download Pop Rocks World from the App Store now at https://itunes.apple.com/us/app/pop-rocks-world-hd-music-rpg/id581732017?mt=8. The App is designed for iPad, and requires iOS 6.0 or later.
Learn how to enter the Pop Rocks World singing contest at: http://swagsoft.com/pop-rocks-world-contest/
A video trailer is available at http://www.youtube.com/watch?v=flrgBqAZO2c.
For more information or media inquiries, contact Mark Johnson on behalf of Swag Soft LLP at +1 408 757 0156 or press(at)appshout(dot)com.
About Swag Soft LLP
In 2010, Aldric Chang co-founded Swag Soft LLP with Ngo Chee Yong after working hand-in-hand to develop an award-winning virtual world for kids called The Travels of Wiglington and Wenks. While Chang's company MediaFreaks continues providing quality animation work, Swag Soft LLP provides mobile and web programming services to give clients a one-stop solution for all their marketing and monetizing needs. The company is all about designing and developing great applications, websites and games with fun, functionality and style for the world.
Learn more at http://www.swagsoft.com.
For the original version on PRWeb visit: http://www.prweb.com/releases/prwebappshout/pop-rocks-world/prweb10448736.htm