WindFall by Heckler Design to be Included in Business in a Box for Square Register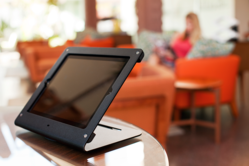 The complete point-of-sale system offers businesses a sleek, efficient and simple alternative to the traditional register.
Phoenix, Ariz. (PRWEB) February 20, 2013
WindFall, the secure point-of-sale iPad stand by Heckler Design, a Tempe, Ariz.-based product design company, will be included in the new Business in a Box for Square Register, a complete, next-generation point-of-sale solution for businesses of all sizes. WindFall's beautifully simple, patented design and commercial-grade construction has made it the preferred choice for iPad-based point-of-sale systems.
The fully configurable Business in a Box for Square Register is designed to provide business owners a complete system – hardware and technology – for accepting cash and credit card payments, printing receipts, accepting gift cards and monitoring daily reports.
"Today, shoppers and retailers demand an excellent checkout experience that conventional point-of-sale hardware can no longer deliver," said Dean Heckler, founder of Heckler Design. "Business in a Box for Square Register assembles the best point-of-sale experience possible. With Square, an iPad and a WindFall stand, the act of buying something becomes a more personalized experience. Having Square select our WindFall product for Business in a Box is a testament to the care we have put into its design and manufacturing."
For more information about the WindFall product line, visit http://www.HecklerDesign.com. For details about the Business in a Box for Square Register, visit http://www.squareup.com/register/hardware.
About Heckler Design
Heckler Design, known for its renowned OneLessDesk, creates beautifully simple, commercial-grade products for design-conscious consumers and businesses. Heckler Design's products currently include office furniture, desk accessories, iPad stands and point-of-sale hardware. Founded in 2007 and headquartered in Tempe, Ariz., all of Heckler Design's products are designed by Dean Heckler and made in America. More information is available at http://www.HecklerDesign.com.
For the original version on PRWeb visit: http://www.prweb.com/releases/prweb2013/2/prweb10449357.htm