Zia Consulting & Alfresco Partner to Launch New Solutions for the Public Sector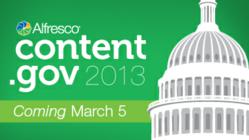 Content management leaders to present Agency Modernization offerings at Content.gov.
Boulder, CO (PRWEB) February 20, 2013
Zia Consulting, Inc., Alfresco Partner of the Year and leading provider of secure content business solutions for the Content Connected Enterprise, announced today its sponsorship at Alfresco's 2013 Content.gov.
Content.gov, a complementary one-day event on March 5, 2013 in Washington D.C., will highlight the successes federal, local, state, and public sector agencies have experienced in solving content management challenges using Alfresco-based solutions.
With modernization sweeping through the public sector, new technologies are required to meet initiatives such as those for Open Government. Zia and Alfresco offer solutions that can drive costs down and improve business processes including intelligent document capture, case management, secure electronic signature, secure mobile, and multi-tenant private cloud–These offerings enable the connection of secure content across all agency systems.
"Zia is eager to provide complete, custom solutions to support the growth and development of a Content Connected Agency in support of Open Government Initiatives. Effectively integrating ECM technologies with existing applications is imperative for agencies looking to modernize their content management," said Mike Mahon, President and CEO Zia Consulting.
At Content.gov, the open government movement--a movement that has emphasized transparency, collaboration, and public participation--will be explored by keynote speaker Beth Noveck, Founder and Director of the White House Open Government Initiative and the first US Deputy Chief Technology Officer (2009-2011).
Attendees can visit Zia at the Content.gov exposition to discuss their wide range of secure content service offerings—all of which address the unique technology needs of agencies striving to meet requirements for Open Government Initiatives.
Zia and Alfresco will also host a webinar following the event: "Agency Modernization – From Paperless to Private Cloud," on Tuesday, March 12 at 11:00 AM (MST). This webinar will feature a series of "lightning demos" highlighting Alfresco as the "content hub" at the center of agency modernization solutions. Demonstrations of Alfresco-connected technologies like Ephesoft and OpenWorkdesk Case Management, as well as Zia product overviews for ZSign and MTNow will also be given. Register for this free event today at https://alfresco-events.webex.com/alfresco-events/onstage/g.php?t=a&d=847712823
###
About Zia Consulting, Inc.
Zia Consulting is the leading provider of business solutions for the Content Connected Enterprise. Working extensively in the public and private sector, Zia's solutions from Paper to Mobile are targeted to meet specific content needs from case management, to document capture, to content migration, and more. Zia-developed products address unique content management system use cases from project management including MS Project integration, to digital signatures for contracts management, to multi-tenancy for service providers. Zia is a proud partner of Alfresco, Liferay, Ephesoft, and Mulesoft. Visit http://www.ziaconsulting.com for more information.
About Alfresco Content.gov
Content.gov 2013 is designed to highlight the successes federal, local/state and public sector agencies have experienced in solving content management challenges using Alfresco solutions. The complimentary, full-day event will be held at the Washington Marriott at Metro Center in Washington, DC on March 5th, 2013 and will feature an extensive series of presentations from customers, partners and industry leaders. Visit http://www.alfresco.com/events/contentgov-2013 to register today.
For the original version on PRWeb visit: http://www.prweb.com/releases/prweb2013/2/prweb10448371.htm