Terminal Services Log v4.0 – Brings Redesigned UI with New Web UI and Improved Reporting Capabilities for Terminal Services/Remote Desktop Services and Citrix XenApp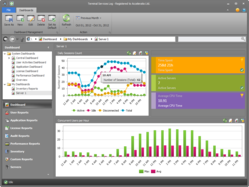 New version of Terminal Services Log 4.0, certified for Windows Server 2012, with new Web UI allows monitoring your servers from any web browser. This powerful monitoring tool brings improved built-in reports and enables creating custom Dashboards and Reports.
Zagreb, Croatia (PRWEB) February 21, 2013
Acceleratio Ltd., an innovative and fast-growing software development company, released a new version of Terminal Services Log 4.0, the monitoring tool for Microsoft Windows Terminal Services/Remote Desktop Services and Citrix XenApp. This monitoring tool is used by more than 900 customers worldwide. Version 4.0 is certified for Windows Server 2012 and brings new improved reporting capabilities, new Web UI and allows Live Monitoring with custom Dashboards and Metrics.
The new version comes with redesigned a simple and easy to use UI for better control and usage. A brand new Web UI allows connecting to reports from any browser, PC or MAC computer or tablet. It is ideal for previewing reports, charts and generating PDF and Excel documents. This feature is a great advantage for those who travel often but need to keep an eye on their servers.
Version 4.0 offers more than 100 built-in reports with details about applications, users, activities, servers and performance. The built-in software asset management reports help avoiding penalties and reducing overall costs by detecting overlicensed or underlicensed software products. The new version comes with improved Dashboards and allows creating colorful custom reports and metrics to meet any specific needs with real-time updates.
Existing reports are now improved and new areas available for monitoring have been added: Network Performance Report, Hardware Asset Reports and Citrix Published applications names (XenApp 5 or better).
Network Performance Reports measure if WAN link is enough to host all the users, measure throughput, and gain important info for future network upgrades. It provides all the needed network statistics, including upload and download by individual user, network traffic per server and information about the speed and amount of data sent and received through a specific network card.
Hardware Asset Reports allow gathering information about server infrastructure including hardware, operating system, patches and installed applications.
"Our application has come a long way since we started 5 years ago. From a simple user activity tracker, Terminal Services Log 4.0 now allows administrators to track all important metrics on their Remote Desktop or Citrix Servers." said Frane Borozan, CEO of Acceleratio Ltd. "With this latest release we extended into an interesting area of asset management and tracking. These new features will help you not just to monitor your infrastructure but also optimize costs and plan for future infrastructure needs."
Terminal Services Log enables flexible licensing according to the number of servers, so every company can get the perfect license solution according to their needs. License pricing starts already from $299, more details about Editions and pricing is available on http://www.terminalserviceslog.com/orders/. There is also 30-day trial version available for downloading.
About Acceleratio Ltd.
Acceleratio Ltd. is a software development company, founded in 2008, based in Zagreb, Croatia, Europe and Ronkonkoma, New York, US. The company specializes in developing high-quality enterprise applications and provides consulting for Microsoft SharePoint, Microsoft Remote Desktop Services and Citrix technology. We are small but growing company and proud that our products are used by many organizations worldwide on thousands of servers. Our goal is to ease life for SharePoint, Remote Desktop Services and Citrix admins across the globe while decreasing the total cost of ownership and improving performance through our innovative software.
###
For the original version on PRWeb visit: http://www.prweb.com/releases/prweb2013/2/prweb10445748.htm