Blair Parkhill Promoted to VP, Marketing at X-IO Technologies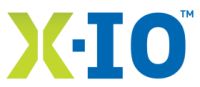 COLORADO SPRINGS, CO -- (Marketwire) -- 02/28/13 -- Storage industry innovator X-IO Technologies announced the promotion of Blair Parkhill to Vice President, Marketing. The announcement was made by John D. Beletic, President and CEO of X-IO.
"Blair's aptitude and contributions have been invaluable, and he embodies so many of the wonderful traits of our company. His innovative thinking and vision will continue to enhance the strategic direction, growth, and profitability of X-IO," said Beletic.
Parkhill joined the technical marketing team at X-IO in 2010 and quickly advanced to the role of Director of Product Management and Product Marketing. His fifteen years of industry experience in customer-focused technology solutions and technical marketing made him a natural fit for the current promotion. Prior to his position with X-IO, Parkhill served in technical and management positions with Compaq Computer Corporation and Hewlett-Packard, responsible for testing and delivering application-focused solutions through outbound marketing collateral, training, and public speaking at industry events.
As Vice President of Marketing at X-IO, Parkhill will oversee marketing operations, product management, alliances and analyst relations while guiding the definition and demonstration of X-IO's vision.
About X-IO
X-IO is a recognized innovator in the storage industry due to its award-winning Intelligent Storage systems, which leverage over two decades of expertise to deliver unmatched price/performance for enterprise applications. The company's plug-and-perform Intelligent Storage solutions are customer proven to accelerate transactional, reporting, and business intelligence applications by a factor of 3X or more. While dramatically reducing storage costs and footprint, X-IO Intelligent Storage drives extreme performance for virtual desktop and server infrastructures. X-IO solutions have been recognized as SQL Server Magazine and Windows IT Pro's 2012 Editors' Best Gold Medal winners, the 2012 Best of TechEd "Hardware and Storage Product" and "Attendees' Pick" Awards, and inclusion in CRN's 2012 Data Center 100 List. www.x-io.com
Media Contact:
Jeanie McIntyre
Communications and Event Marketing Mgr.
719.388.5435
Email Contact


Copyright (2013) Marketwire.
All Rights Reserved.