HeartMath®'s Inner Balance App Hits iTunes Store - Page 2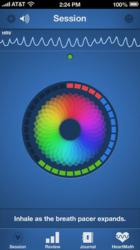 As users learn to release stress and shift into the coherence zone, they can start to create a new internal baseline of resilience so that stress has less control. User-friendly graphics display coherence scores, which prove to be highly reflective of emotional state.
For those who want to delve even deeper, the app offers unique "quantified self" features including advanced screens and charts that provide a more detailed view of changing heart rhythms and amount of time in the coherence zone.
"While there are many heart rate apps available, Inner Balance is the only app and sensor that provides more than heart rate variability (HRV) feedback. The addition of coherence measurements, intelligent coaching and training within the app is unique in the market," said HeartMath's Chief Marketing Officer, Catherine Calarco. "We're thrilled to bring this advanced solution to consumers that are serious about reducing their stress."
###
About HeartMath®:
HeartMath (http://www.heartmath.com) was founded by Doc Childre. HeartMath is a cutting-edge performance company providing a range of unique services, products and technologies to improve health and well-being, while dramatically reducing stress. HeartMath clinical studies have demonstrated the critical link between emotions, heart function and cognitive performance. HeartMath studies have been published in numerous peer-reviewed journals such as American Journal of Cardiology, Stress Medicine, Preventive Cardiology and Journal of the American College of Cardiology. HeartMath's emWave® technology products have won numerous awards including the Last Gadget Standing People's Choice Award at the 2009 International Consumer Electronics Show.
emWave® is a trademarks of Quantum Intech. HeartMath® is a trademark of the Institute of HeartMath. iTunes is a trademark of Apple Inc., registered in the U.S. and other countries.
For the original version on PRWeb visit: http://www.prweb.com/releases/prweb2013/2/prweb10478819.htm