Momentum Announces Web Conferencing Beta Launch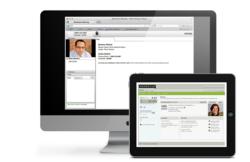 Momentum Meeting offers businesses feature-rich online collaboration for up to 250 participants
Las Vegas, NV (PRWEB) February 28, 2013
Momentum, the number one most reliable hosted PBX provider, announced today at the 2013 Channel Partners Conference & Expo the expansion of its cloud-based platform and unified communications portfolio with the addition of enterprise-grade web conferencing.
Momentum Meeting is a browser-based web collaboration solution complete with a robust set of presentation tools and built-in audio and video support. Businesses can collaborate and connect effortlessly with a feature-rich solution that facilitates virtual meeting sessions with up to 250 attendees.
The application enables users to interact and share content from across the building or around the world - without the expense and time of meeting in-person. With the versatility of Momentum Meeting, employees can easily organize, manage and attend online meetings, webinars, sales demos, training sessions and even live support calls.
"The true value of collaboration tools is their ability to facilitate greater communication between customers and colleagues. Momentum Meeting is an affordable solution that empowers users to engage online, bringing dispersed teams together to discuss and work on projects in real-time, driving productivity, efficiency and a streamlined workflow," said Alan Creighton, President and CEO of Momentum.
Web conferencing services like Momentum Meeting help businesses reduce their carbon footprint, lower training costs and accelerate time-to-resolution, further facilitating a remote workforce model that more and more businesses are adopting every year.
Benefits and functionality of Momentum's virtual meeting application:
■ Share and Sync Ideas - Synchronized Browsing and Screen Share
■ Transfer Documents - PowerPoint Presentation and Online Media File Sharing
■ Outline Projects - Live Document Annotation and Interactive Whiteboarding
■ Solicit Instant Feedback - In-Session Polling and Survey Questions
"Complete with a fast connection, secure PIN protected sessions and efficiency-driven features, Momentum Meeting is the ultimate collaboration tool," said Creighton.
To celebrate the beta release, Momentum is offering a free 30-day trial beginning March 12, 2013. To learn more about how your business can leverage a web conferencing solution and to enroll in the free trial, visit the Momentum Meeting page.
For the original version on PRWeb visit: http://www.prweb.com/releases/prweb2013/2/prweb10482633.htm