The California All Stars and Awesomeness TV Have Teamed up to Show an Inside Look at the Journey behind the Scenes with the Reigning World Champs – SMOED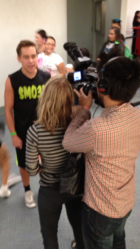 The California All Stars, Small Coed "SMOED" cheerleading squad based out of Ventura, California are the reigning World Champions in their respectful division. Through a partnership with AwesomenessTV.com, SMOED's trials, tribulations and journey back to Worlds will be documented in a 21 episode series called "Cheerleaders."
Ventura, California (PRWEB) March 02, 2013
The California All Stars Small Coed cheerleading team from Ventura, California, aka: "SMOED" brought home the 1st place globe trophy in Small Coed division from the 2012 Worlds Cheerleading Competition last April in Orlando, Florida. The 2013 cheerleading season is currently underway and defending the crown is quickly approaching. Awesomeness TV is documenting the squads entire journey with a 21 episode series titled "CHEERLEADERS." The series will cover every aspect of the cheerleading sport and the trials and tribulations that the "SMOED" team must endure to repeat as World Champions. The Cast will include CA Ventura Directors, Eddie Rios and Orby Orta, every athlete on the "SMOED" team, other CA Ventura gym staff, cameos from CA Vegas and owners Tannaz Emamjomeh, Jeff McQueen and many other California All Star coaches. The series is already underway having released 6 episodes to date. A new episode is released every Sunday at 8:00am PST to the Awesomeness TV YouTube page and sent out via The California All Stars Facebook Page. To see previous episodes and to receive new episodes visit and like The California All Stars Facebook Page, follow them on twitter @TheCaliAllStars and subscribe to the Awesomeness TV YouTube page. "We are thrilled with this opportunity and love that Awesomeness TV can dive into the day to day life at CALI!" - Tannaz Emamjomeh – Co-Founder and Owner, The California All Stars.
The California All Stars was Co-founded by Tannaz Emamjomeh and Jeff McQueen 12 years ago. California All Stars has grown from 110 athletes to over 600 plus athletes between 5 locations. California All Stars is considered one of the Top Gyms in the World and was named the top 3 gyms in the United States in 2009! California All Stars has over 400 National Titles, Grand Champions, Program Champions, Innovative Choreography Awards, Judges Choice Awards, Paid Bids to the USASF WORLDS, 2009 WORLD CHAMPIONS, IALC Champions, 2010 NCA National Champions, 2011 NCA Champions (10 x) and 3 Silver medals at the 2008 Cheerleading Worlds. California All Stars has teams for all levels 1-5 and everyone at California All Stars makes a team regardless of experience. The staff at California All Stars comes from the top collegiate and All-Star programs in the country. In 2010 Tannaz and Jeff were named the most influential people in the cheer industry and recently awarded The Gym Owners of the Year Award at the 2012 USASF World Championships. "It has been a blessing to have all of the success we have had the past 12 years. Jeff & I are both very thankful to be able give all our current and past athletes an experience and friendships to last a lifetime. We have an incredible staff and no matter what location an athlete is at I know they are in great hands!" Tannaz Emamjomeh – Co-Founder and Owner, The California All Stars.
AwesomenessTV is an online destination aimed at teens ages 12 to 17 on YouTube. Founded by
Brian Robbins (Sonny With A Chance, Smallville, So Random, FRED) and Joe Davola (In Living
Color, Smallville, MTV Networks), the main channel features a broad cross section of series built
around pop musicians, A list athletes, TV personalities and YouTube stars. From talk shows to
sketch comedy, plus scripted series and a handful of reality series, AwesomenessTV is redefining what it means to be a fan by blurring the lines between viewership, engagement and user generated content. Since launch in June 2012, AwesomenessTV has grown to over 340,000
Subscribers and 65,000,000 views; since launch in November 2012, AwesomenessTV's Multi-Channel Network boasts over 6,500 channels and a aggregate subscriber base of over
900,000 subscribers and 101,000,000 views!
For the original version on PRWeb visit: http://www.prweb.com/releases/prweb2013/3/prweb10456414.htm