Rancho Costa Verde is a Baja Real Estate Development That Is Providing Luxury Beach Living Through Solar Power and Green Technology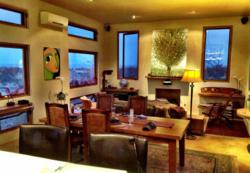 The future of green technology is happening today and it's happening just south of the border at a Master Planned Baja Real Estate development named Rancho Costa Verde. Recent advances in Green Technology have made off-grid living and luxury living no longer mutually exclusive.
(PRWEB) March 26, 2013
The future of green technology is happening today and it's happening just south of the border at Rancho Costa Verde, a Baja real estate development. Recent advances in Green Technology have made off-grid living and luxury living, no longer mutually exclusive.
The clearest example of this is found in Baja California's newest master planned community located in the small seaside community of San Felipe. The name of the Green Development is Rancho Costa Verde. It is a US Master planned community that showcases the advances in eco-technology that are allowing for the marriage of the concepts of 'luxury' and 'green' living. With the advances such as; solar power systems that produce ample electricity to run a luxury 3 bedroom, 3 full bathroom beachfront home with washer/dryers, microwave oven, dishwasher, High-speed internet and satellite TV, tank-less water heaters, and air conditioning for the entire home. As major appliance manufacturers are beginning to recognize the need, and the public's desire for more energy efficient products, they have been dedicating more of their research and development budgets to green advances in their products, and making significant break throughs.
The model home At Rancho Costa Verde utilizes appliances from just such companies like General Electric, Maytag, LG, Sony, Mitsubishi, and more. Coupled with vastly more efficient solar panels, batteries, and energy converters, homes are now able to have all the luxuries a 2nd or getaway home could possibly have, including air conditioning. All this, without being forced to be attached to 'the grid'.
Water, one of our most precious resources, and its conservation, recycling, and generation, is another priority that Eco-technology is having a massive impact on. The atmospheric water maker technology that has been utilized in countries like Israel has made its way across the Atlantic. Atmospheric Water Makers powered by these new solar energy systems can create up to 100 gallons of clear drinking water out of the air's natural humidity levels, in a 24-hour period. Individual desalinization systems are now a viable source for creating water for living as well. When these advances are coupled with existing technology such as reverse osmosis filters and waste-water treatment systems that recycle a home's waste-water to a clear, odorless state for irrigation, it becomes easier to see the future of green technology. Fully self-sustained homes are no longer a thing of science fiction, they are happening today and they are happening in San Felipe, Mexico at Rancho Costa Verde.
The construction materials used in the model home itself are a shining example of green technology. The home is constructed out of a material that is an 85% recycled product that provides an insulation factor of R-34. Straw bale construction is another viable option, as well as 'earth bag' construction. These are examples of other building materials that are being utilized today to create homes that are esthetically pleasing, yet leave very small footprints on the environment.
Because self-sustained living no longer requires sacrificing many of the luxuries that US citizens have grown accustomed to, it is quickly becoming the preferred way of living for many Americans. Baja California is comprised of many beaches, but traditional infrastructure has yet to make it all the way down the peninsula. Because of these advances, people are no longer restricted to where in Baja they can build a luxury home by where the 'grid' is. Theses advances have opened up a myriad of new choices in location while being ecologically responsible at the same time… Making Green living and Luxury living go hand in hand, more than ever before.
For the original version on PRWeb visit: http://www.prweb.com/releases/prweb2013/3/prweb10567875.htm