Rimol Greenhouse Systems Supports Community Supported Agriculture Urban Farm in Boulder County, Colorado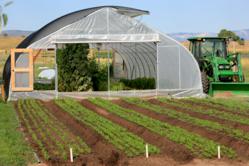 Flipside Farm Chooses Rimol Greenhouse Systems' High Tunnel Greenhouse for Community Project
Hooksett, NH (PRWEB) March 27, 2013
Rimol Greenhouse Systems one of the United State's largest greenhouse manufacturing companies, recently learned that their "Rolling Thunder"™ movable greenhouse will be used at Flipside Farm's half-acre, urban expansion project in Longmont, CO. Flipside Farm's greenhouses will be used to sustain community supported agriculture throughout the Boulder County, CO area.
"We are under contract to lease a half-acre in the center of town, and will be purchasing 'Rolling Thunder'™ movable greenhouses for the land in order to continue our CSA operation," Hannah DeHerrera, co-owner of Flipside Farm, said. "This way, we can bring the food even closer to the people, and we can be more a part of our community."
Founded in 2012 by Simon and Hannah DeHerrera, Flipside Farm is located in Longmont, CO and currently serves as a small scale provider of local, year-round vegetables. After learning about the success renowned organic farmer, Eliot Coleman, had with Rimol Greenhouse Systems' 'Rolling Thunder'™ greenhouses, the two decided to use the same structure at their new farm.
"It's called community supported agriculture, but I follow a different model. I provide a list of options for neighbors to pick up once or twice a week," Hannah DeHerrera said. "The 'Rolling Thunder'™ greenhouse is perfect for my needs. People tell me all the time they can't believe I am able to pick vegetables in the thick of winter."
Next summer, Simon and Hannah DeHerrera will be purchasing more "Rolling Thunder"™ greenhouses in order to bring their CSA efforts into the center of Longmont, CO. Their 'Urban Farm' will be privately leased and will provide year-round vegetables for more people throughout the Boulder County, CO area.
"One of my favorite things about my job is learning about how my customers are able to use their greenhouse structures to enhance their communities," Bob Rimol, Founder of Rimol Greenhouse Systems in Hooksett, NH, said. "When I learned that our greenhouses will be used to promote a healthy, local alternative method of farming, I just had to feature Simon and Hannah's work on Flipside Farm as part of our customer spotlight. We look forward to contributing to more urban farming projects in the near future."
Currently, Hannah DeHerrera manages the farm as a "stay at home mom" with two children and a part-time job. She describes Flipside Farm as "a hobby and way of feeding my family, while at the same time bringing in a significant amount of income and serving the community." In addition to the half-acre 'Urban Farm', she also looks forward to a 3-acre expansion which will include a 'you pick' fruit orchard and vegetable gardens.
For more information about Rimol Greenhouse Systems' community shared agriculture efforts, visit http://www.rimolgreenhouses.com/.
About Rimol Greenhouse Systems:
In 1994, Bob Rimol, owner of Rimol Greenhouse Systems, decided to leave his home state of New Jersey and relocate with his young family to New Hampshire. Bob began working as a greenhouse manufacturer's representative specializing in structures and systems. However, he soon realized the need to "build a better mousetrap" and set out to customize greenhouse technology in order to better suit the needs of his customers. Bob then founded Rimol Greenhouse Systems in order to provide innovative and quality greenhouse technology for local growers.