Top 5 Technology Events to Affect Small Business Presented By ChooseWhat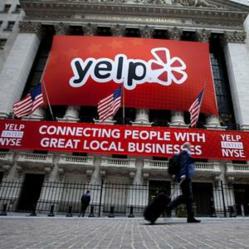 ChooseWhat.com pulls together the most influential technology events affecting small business this month.
Austin, Texas (PRWEB) April 11, 2013
Michigan's spectacular tourney run and Kevin Ware's leg injury may have led the media buzz this month, but the technology industry has been making major waves affecting small businesses worldwide. ChooseWhat explains how to take advantage of Yelp's new features, why small businesses need to consider accepting BitCoins, what is The Amazing Jellybean and more in this month's Top 5 Technology Events to Affect Small Business.
1) Yelp's Small Biz Booster: This past month, Yelp added a new feature poised to be a game-changer for small businesses. The new addition to the review site is a revenue estimator for businesses. The estimates are made through high-level tracking of leads, not simply page views of a business, since many people visit various business pages before choosing the one they will end up going to. Yelp separates leads from normal page views by counting only the visitors that bookmark, map directions, place a call, purchase a deal, or even make an OpenTable reservation through the app. (via TechCrunch)
How this applies to you: Now small businesses can get even more out of Yelp. By using their deals and OpenTable integrations not only is it easier for customers to connect with you, but with each one of these integrations it gives businesses a better perspective of future revenue coming from the website.
2) BitCoin's Bubble?: For those unfamiliar with the topic, Bitcoin is a new form of currency used primarily for online transactions and is technically defined as "a decentralized digital currency based on an open-source, peer-to-peer internet protocol." Bitcoin has received a lot of attention this past month because of its more than ten-fold increase in value so far this year. While the recent price surge has been fueled by the banking crisis in Cyprus which is making this currency not connected to central banks even more enticing. (via CNNMoney)
How this applies to you: Once thought of as a black market currency because of the anonymous nature of the Bitcoin accounts, Bitcoins are now being used for all sorts of transactions from Reddit Gold to t-shirts to natural cosmetics. It may behoove small businesses e-Commerce sites to start accepting Bitcoins as a form of online payment, especially if you sell products or services that people might not want traced back to them.
3) MetroFax Sells Out: j2 Global, the software-as-a-service (SaaS) and tech media conglomerate made a large and somewhat surprising acquisition of one of the most feature-rich online fax services on the market, MetroFax. The j2 global corporation already owned a large percentage of top personal and small business geared online fax services such as eFax, MyFax, and Fax.com. With this move, j2 seems poised to keep its stronghold on the online fax market. (via Yahoo! Finance)
How this applies to you: While j2 Global owns almost a dozen online fax services, the eFax brand is still its primary focus and biggest money-maker. Hopefully with the acquisition of such a robust service like MetroFax, this will mean improvements to eFax as well as other applications under j2's online fax umbrella and not the disintegration of MetroFax's superb service.
4) Be Amazed!: A popular Kickstarter project is making waves across the tech world because of its remarkably useful implications for techies and non-techies alike. The Amazing Jellybean conquers the painstaking task of resetting your modem and wireless router -- in the correct order and for the appropriate amount of time – when your Internet connection is on the fritz. As Greg Kumparak of TechCrunch points out, this invention is really just "band-aid than a permanent solution to a bigger problem," but with Internet connectivity issues persisting for much of the past few decades, don't expect there to be a permanent solution soon. (via TechCrunch)