Diane Von Furstenberg Luggage And Other Designer Sets Offered With Special Discount Codes At SetsLuggage.com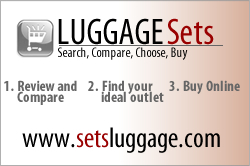 Discounts on Diane Von Furstenberg luggage sets on Financial Firebird's SetsLuggage.com site brings prices to rare low levels buy taking advantage of special promo coupon codes. Buy a DVF designer luggage set with great looks, solid construction and now relatively cheap prices.
New York, NY (PRWEB) May 11, 2013
Luggage sets at discount prices defines the mission of Financial Firebird's SetsLuggage.com website everyday, but their recent addition of special discount codes for certain Diane Von Fustenberg luggage sets deserves extra attention. In total the Luggage Sets Superstore offers 7 Diane Von Furstenberg luggage sets with two sets in particular worthy of taking some time to explore.
The Diane Von Furstenberg Modern Tile 4 Piece Spinner Luggage Set features modern tile jacquard fabric with faux leather trim. A large main compartment includes shoe pockets and a removable pouch for toiletries. Choose from three colors available for this set: khaki, orange or plum. DVF suggests retailers sell this set for $1280, with the normal SetsLuggage.com price falling to $300 only now using the special coupon code DVFMT and following the luggage guy links buying these suitcases for a trip cost only $207.
The Diane Von Furstenberg Signature Hybrid 3 Piece Spinner Luggage Set provides Diane Von Furstenberg signature jacquard body fabric and textured ABS hardside gussets for extra protection where luggage tends to see the most abuse. This extra strength from the solid side panels explains the 10 year warranty offered. Color selection includes brown or black for this set. Diane Von Furstenberg manufactures the luggage with a suggested retail price of $1080. Normally discounts drop the price down to $195, but now travelers can purchase this luggage set for only $149 by following the luggage guy button and using unique code DVFHB as a promo code at checkout.
Couples will appreciate the fact that while these sets represent fine upscale designer luggage sets, certain colors offered for each of these sets will appeal to men as providing a good looking unique fun suitcase without feeling too feminine.
These discounted Diane Von Furstenberg luggage sets provide everything a person wants whether they need a few pieces for a weekend at a Broadway hotel in New York City or a week away on a Bahamas vacation. Enjoy the great visual appeal, solid construction and now low prices as well for these designer bags.
About Luggage Sets Online Discount Superstore
No other online shopping experience quite replicates that experienced by shoppers at Luggage Sets Online Discount Superstore. The wide variety of patterns and colors provide shoppers with a great selection of designer luggage sets, fun luggage sets, cute luggage sets, and children's luggage sets.
For the original version on PRWeb visit: http://www.prweb.com/releases/prweb2013/5/prweb10725008.htm