MinuteHound Announces Software Update Compatible With All Web Browsers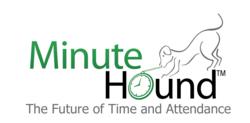 MinuteHound specializes in time clock technology, which uses biometric based attendance devices. All software is cloud based, and now the latest release is compatible with all web browsers.
New York, NY (PRWEB) May 16, 2013
MinuteHound announces software update compatible with all web browsers. MinuteHound's popular internet time tracking, which is accessed through any web browser, is saving companies of all sizes money. The state-of-the-art biometric time clock software costs just a few pennies to maintain daily, requires no physical time cards and is highly effective and accurate in monitoring employees' attendance.
The company's software update announcement adds another level of confidence and dependability to MinuteHound's clients, who depend of the biometric software to maintain their company's employee attendance efficiency. MinuteHound assures its customers that their cloud based time clock software will be continuously updated to meet the compatibility requirements of all major web browsers.
Internet browsers are constantly upgrading their software to accommodate new technologies, which include graphic display technology, video player technology and security issues. MinuteHound monitors the updates and changes made to all major web browsers such as Google Chrome, Microsoft Explorer, Mozilla Firefox, Opera browser and many others.
The company's software uses secure 128-bit encryption to transfer data to their cloud storage infrastructure, where the information can be accessed securely from anywhere in the world. As many companies decide to switch to biometric attendance software, MinuteHound continues to position itself in an advantageous capacity to provide companies of all sizes with the most up-to-date and secure software, which is compatible with all web browsers.
Large and small companies, located all over the world, are increasingly switching over to cloud based storage solutions. MinuteHound understands why cloud based systems are important to their clients, because it is the most secure way to store information. By continually updating their software, MinuteHound can assure clients that their important payroll data will be secured and readily accessible from anywhere in the world, using any web browser.
Cloud based time clock management and attendance system, now available through MinuteHound, securely protects the personal information of companies' from being altered, damaged or lost. And, this amazing new software allows companies to save money off their administrative costs by making tasks automatic and error free.
Automated flawless reports are just one of the main reasons why companies are switching over to MinuteHound's state-of-the-art cloud based attendance system. The newly updated time clock software eliminates all payroll errors, terminates buddy punching problems and helps companies save 2%-8% or more off their payroll expenses each month.
MinuteHound's announcement of their software update, which assures its clients that the state-of-the-art biometric attendance software will always be compatible with all web browsers, comes at an ideal time when companies are seeking for effective ways to save money off their payroll expenses. No training is required to use the attendance software and MinuteHound offers a money back guarantee on the biometric fingerprint devices they provide.
MinuteHound Contact Information
Website: http://www.MinuteHound.com
Email: info(at)MinuteHound(dot)com
Phone: (800) 351-7237
For the original version on PRWeb visit: http://www.prweb.com/releases/prweb2013/5/prweb10652734.htm