Celebrity Style Detox Now Available on the East Coast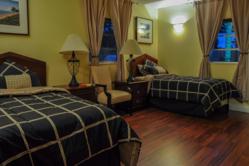 Celebrities suffering from drug or alcohol addiction check in to luxury centers usually located on the west coast. Meeting the need for upscale drug and alcohol detox in the Eastern United States is South Florida's Harbor Village.
Miami, Florida (PRWEB) June 07, 2013
Always in the news, it seems, are celebrities falling victim to drug and alcohol dependencies. The tabloids are quick to report entertainment's biggest names and their stays at west coast centers.
Up until now, those seeking addiction from drug and alcohol abuse have had to seek very costly west coast centers. Now meeting the need are detox centers more closer to home, on the east coast, where clients from the middle income bracket to the rich and famous can achieve recovery from their addiction. Beautiful, sunny South Florida is the setting for Harbor Village, a premier drug and alcohol detox center.
In surroundings befitting that of a regal resort, Harbor Village provides each client with a finely decorated suite, a 30,000 square foot outdoor lounge area, spa, salon and massage services, Netflix and Internet access, nutritious, gourmet dining and personalized care.
"No longer do you need to travel across the country to receive professional drug and alcohol detox. Here in Miami, Florida, we offer 3-7 day programs, covered by many insurance providers, that have proven to be very successful in getting our clients back on the right track," said Robert Niznik, Harbor Village CEO.
Like many detox centers, Harbor Village has been seeing an increase in prescription drug overdoses and it's not just the stars that are abusing them. The Centers for Disease Control and Prevention says, "Painkiller addiction is a major health threat and prescription painkillers now cause more overdose deaths than heroin and cocaine combined."
Harbor Village is professionally staffed and ready to assist its clients with a wide array of drug and alcohol issues. For each and every client, the road to recovery begins with a single phone call.
For the original version on PRWeb visit: http://www.prweb.com/releases/prweb2013/6/prweb10805888.htm