New BestPriceAutoSalesAZ.com Website Features Inventory for Phoenix, Arizona Auto Dealer Best Price Auto Sales, Built by Carsforsale.com®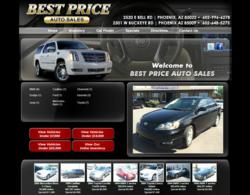 The dealership marketing solutions of Carsforsale.com are now available to new client, Best Price Auto Sales.
Sioux Falls, SD (PRWEB) June 16, 2013
With consumers doing the majority of their auto shopping online before visiting a dealership, it is vital for auto dealers to have a strong online presence. Therefore Best Price Auto Sales has teamed up with Carsforsale.com for online marketing solutions. A new customized dealership website will help draw in and initiate new customer relationships. The dealership will also utilize Carsforsale.com's platform of marketing solutions for inventory, data distribution, and online media.
Best Price Auto Sales in Phoenix has a vast array of solutions offered to them via the Carsforsale.com dealer system. This system offers social media tools, template posting systems, Web positioning and search engine optimization, wholesale networking, customer relationship tools, data reporting and more; all designed to maximize the exposure of Best Price Auto Sales' inventory across multiple platforms.
In business since 1999, Carsforsale.com offers a great opportunity to grow Best Price Auto Sales' sales strategies with millions of visitors viewing their inventory portal each month. This paired with dealer inventory postings on Phoenix, Arizona FreeClassifieds.com, an exclusive automotive partner with Carsforsale.com, extends the dealership reach even further into online consumer resources.
"Dealer sales and website development are at the core of what we do at Carsforsale.com. We are excited to have Best Price Auto Sales partner with us," said Carsforsale.com's Sean Coffman.
About Best Price Auto Sales:
Best Price Auto Sales is located in Phoenix, Arizona. Best Price Auto Sales' inventory can be found on Carsforsale.com.
About Carsforsale.com:
Carsforsale.com created in 1999, is one of the fastest growing and most popular auto classified websites. Carsforsale.com offers a fast and effective way to connect buyers with sellers of used cars. Carsforsale.com reaches millions of unique visitors each month and is a privately held company. Carsforsale.com provides a full suite of services for the dealer including websites, inventory management, ad posting tools, lead management, printable features, mobile applications & sites, reporting & statistics and more.
###
For the original version on PRWeb visit: http://www.prweb.com/releases/prweb2013/6/prweb10835849.htm