Dreams Cloud Shares the Top Five Things Everyone Should Know About Nightmares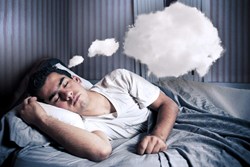 Dreams Cloud, the premier resource for dreams and dreaming, shares tips to help people understand and make sense of their nightmares and bad dreams.
Sterling, VA (PRWEB) July 30, 2013
Almost everyone can recall a bad dream at some point in their lives. For some people, nightmares can even be a regular occurrence. Many people feel bad dreams are something best forgotten in the morning, but not so, says Dr. Robert Van de Castle of Dreams Cloud, the most comprehensive resource on dreams and dreaming on the web, mobile and social media. "Like all dreams, nightmares can play an important role in our lives," explains Dr. Van de Castle.
Here are the five top things everyone should know about nightmares and scary dreams:
1. Nightmares should not be ignored.
Nightmares can be terribly unsettling. After a nightmare, it's natural for the dreamer to want to calm down and remember that the events experienced in the dream are not real. But many dream experts agree that ignoring nightmares altogether is a mistake. These experts say that nightmares, like other dreams, offer a unique opportunity to get in touch with oneself and one's subconscious. By paying attention to these dreams, a dreamer may actually be able to lead a happier and healthier life.
2. Nightmares may signal something that needs attention in one's life.
Nightmares and other dreams that cause fear, panic, anxiety or other negative emotions may be alerting the dreamer to a waking life issue. Whether it's a bad relationship, unhappiness with one's job situation, a trauma the dreamer has experienced, or something entirely different, nightmares can remind people to examine their lives and see if there's something they need to fix in order to return to a happier, more balanced state.
3. Chronic or recurrent nightmares may be an indicator of a more serious issue.
Anxiety, stress and conditions such as post-traumatic stress disorder may all cause a person to have chronic nightmares. Sleep disorders such as sleep apnea could also be contributing to nightmares. A person experiencing severe problems with nightmares should talk to a health care professional.
4. Nightmares for children can be a normal part of processing trauma.
Children may experience nightmares for a long time following a trauma, even if they appear happy and well-adjusted during the day. It's important to reassure children that they're safe following a nightmare, but it's also important to encourage them to talk about their feelings. Providing support and asking a child the right questions can help them process the event and return to emotional balance.
5. Food or substances can sometimes be to blame for bad dreams.
While mental states often factor into dreams, there are many non-psychological contributors to nightmares. These can include food, drugs and medications, substance withdrawal and sleep deprivation. In addition, studies have found that smoking and alcohol can both interfere with the normal sleep cycle, blocking people from spending as much time in the REM stage of sleep.
About Dreams Cloud
Dreams Cloud, a subsidiary of Dreams Book Inc. (DBI), is a global resource which specializes in gathering, saving, and tabulating a statistical compilation of dreams. The website provides its members with tools to log their dreams, create various dream journals, save them privately or share them publicly or anonymously, and receive reflections on their dreams. The goal of Dreams Cloud is to better its members' lives and those of the public through its efforts. To learn more about Dreams Cloud, please visit http://www.dreamscloud.com.
About Dreams Book Inc.
Dreams Book Inc. (DBI), a Herndon, VA, based company, is the creator and manager of various internet-based projects. DBI employs fractional management and in-house expertise and development as well as a multi-national outsourced team to create value for its stakeholders through synergetic and strategic project management. DBI specializes in projects that provide social benefits and have mass appeal.
For the original version on PRWeb visit: http://www.prweb.com/releases/2013/7/prweb10970767.htm