The Eco-Friendly Car Washing and Detailing Service That Comes to You, Invades Washington DC - Sustainability Never Looked So Good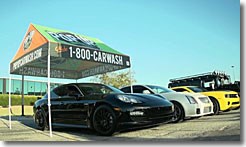 Using "waterless" technology, Pop-Up Car Wash DC provides complete car wash and detailing services for tenants of residential complexes, offices, malls, and parking garages throughout the Washington DC Metropolitan Area.
Washington, DC (PRWEB) August 24, 2013
One day in 2012, two local Washington D.C area business partners Jelani Wilkins and Larry Leigh, were fishing for investment and start up opportunities. They never expected to find one that not only had a good profit model, but was also environmentally friendly...
But they did.
They found Pop Up Car Wash, a national franchise based in the Tulsa Oklahoma area, an area of the U.S well documented for its problems with water shortages.
Jelani and Larry formed a small company named Devine Holdings Inc. 2011, in which they primarily bought and sold classic automobiles. When they saw this opportunity, they knew they had to give it a shot.
Pop Up Car Wash D.C has been in operation since February 2013, and has established clients throughout the D.C area during this short span. Though only a small company, they are focused on providing exceptional service and promptness, all while promoting environmental awareness. Company Co/Owner and Operator Larry Leigh explains, "We are a come-to-you, waterless, Eco-friendly car washing and detailing service, comparable to standard car wash services. Our solutions are biodegradable and not harmful to automobile surfaces. The fact that we do not use water tanks and heavy machinery, means we can come to clients anytime and absolutely anywhere."
Alongside of the eco-friendly products and services, the two saw an important opportunity to create jobs in this stagnant economy. The Pop-Up team not only aims to create new 25 jobs by the summer of 2014, they also offer low cost start up packages for those who wish to go into business for themselves in the D.C Metropolitan Area.
Though they currently do not a local website, you can check out the national site by visiting http://www.popupcarwash.com to see the service in action. Pop Up Car Wash D.C, can be contacted anytime by calling their local number (202) 230-0365, or by dialing the national toll free number 1800-Car-Wash. Simply enter your zip code, and you will connected to Larry and Jelani, your local Pop Up Wash reps serving the Washington D.C area. Pop Up Car Wash requires that all affiliates are commercially insured, low-cost start up business opportunities available.
For the original version on PRWeb visit: http://www.prweb.com/releases/2013/8/prweb11050463.htm