Beyond The Rack Introduces Mobile App for iPhone and iPad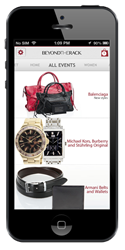 North America's leading online retailer takes shopping on-the-go to the next step
New York, New York (PRWEB) November 13, 2013
Leading flash sale e-tailer, Beyond the Rack, announced today that it has joined forces with award-winning mobile agency Plastic Mobile to create a state-of-the- art mobile shopping app for the iPhone and iPad.
"Beyond the Rack has always been about convenience and the launch of our mobile app is another important step in that direction. Many of our customers already enjoy shopping BTR on their iPads and iPhones - our new app makes it even easier." says Yona Shtern, Beyond the Rack CEO.
The new iOS mobile app gives members quick and easy on-the-go access to exclusive, curated events. The start of sale notifications and event countdown timer ensure customers are always informed and never miss a deal before time runs out. The customized search function allows shoppers to filter and sort by size, price, or discount for fast results, and the 3-tap easy checkout process guarantees a seamless and fun shopping experience.
"As mobile is becoming more prominent in the retail industry, customers now expect to have access to their favorite brands in the palm of their hands." says President and COO of Plastic Mobile, Melody Adhami. "The online shopping industry demands that players meet their customers where they already are, on their mobile devices."
Beyond the Rack has revolutionized the way people shop through its online channel over the past 4 years, and with the shift in consumer behaviour toward mobile, the app extends that experience to engage its over 9.5 million members anywhere, at any time. The app is available for download here for the iPhone and iPad.
About Plastic Mobile
Plastic Mobile is an award-winning mobile marketing agency of thinkers, artists, creators and builders. We have one common aspiration: to create extraordinary user experiences. Plastic Mobile is at the heart of the evolution of the interactive mobile technology, pushing the boundaries and setting the bar for the standard of quality. Known for many first-of-their-kind mobile initiatives, including launching the first national video iPad app and creating the first pizza ordering mobile app, Plastic Mobile delivers exceptional client service and highly customized mobile solutions for all platforms, while achieving measurable results. We have a diverse client list of some of North America's best brands and are the proud recipients of a number of awards, including the 15th annual Webby shopping award. Check us out at http://www.plasticmobile.com.
About Beyond The Rack
Beyond the Rack, North America's premier online shopping club, offers its over 9.5 million members the most sought-after designer brand apparel, accessories, beauty, and home décor products at up to 80% off retail. Products are sold in the context of two-day, first-come, first- served, limited-quantity events. Members can expect up to 20 new events each day. The privately held company has offices in Montreal, Toronto, New York and Las Vegas.
For Media Inquiries:
Rebecca Basi
Marketing Manager, Plastic Mobile
rebecca(at)plasticmobile(dot)com
Office: (416) 538-8880 x226
Mobile: (647) 970-2789
###
For the original version on PRWeb visit: http://www.prweb.com/releases/2013/11/prweb11326175.htm