Sunset Magazine Announces the First-Ever "Small Space Big Dreams" Home Awards Recognizing the West's Most Innovative and Beautiful Compact Living Spaces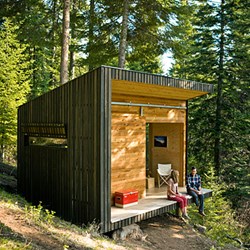 Sunset invites readers to submit personal living spaces in five categories for prizes and the opportunity to be featured in the magazine's pages.
Menlo Park (PRWEB) December 20, 2013
Sunset magazine, the ultimate guide to living in the West, today announced its first ever "Small Space Big Dreams" Home Awards, celebrating structures that fit a lot of living into not a lot of space. Winners in five categories will have the chance to be featured in Sunset's September issue and will receive a gift card from the Container Store. Award submissions will be accepted from 12:00am PT on December 20th to 11:59pm PT on Jan. 31, 2014.
"Our readers are a constant source of inspiration and innovation," explained Joanna Linberg, Sunset Home Editor. "We are eager to discover homes that utilize space in new and creative ways and acknowledge those who are able to push the boundaries of Western living, inspiring Sunset to do the same. We are excited to see and celebrate the home submissions that do just that."
The magazine is inviting its readers (including professional designers and architects) to submit homes in five categories. The editorial team will narrow down the best submissions and announce award finalists on March 1, 2014. Readers and fans will have the chance to vote online for their favorite finalists. Taking readers' favorites into account, the editorial team will announce the winners in the September issue of the magazine.
Submission categories include:

Whole House: If your entire home is space-savvy, show it off. There's no square-footage limit—it's how the space is used that matters.
One-room Wonder: A single space filled with ideas for maxing out the available room--kitchen, bath, kid's room, or multiuse…. you decide.
Outdoors: Share photos of how you make your compact yard, treehouse, patio, deck, or shed seem roomier than it is.
On Wheels or Water: If your home floats or rolls, Sunset wants to see how you've kitted out the unconventional space.
Satellite Space: Guest cottages, writing sheds, the party barn—Sunset is looking for outbuildings that live large.
The contest starts on December 20, 2013 and will run until January 31, 2014. For further details and official submission rules and instructions, visit sunset.com/homeawards.
Stay up-to-date on the "Small Space Big Dreams" Home Awards by following @SunsetMag on Twitter #smallspacebigdreams.
About Sunset
Sunset (http://www.sunset.com) is the leading lifestyle brand in the West. Through magazines and books, events and experiences, and digital and social media, Sunset covers the West's best flavors, destinations, design trends, and innovations. Sunset engages and inspires an audience of over five million educated, active and affluent consumers every month through its five regional print editions—Pacific Northwest, Northern California, Southern California, Southwest and Mountain—as well as via all tablet devices and its website. In addition to its print and digital publication, Sunset showcases the region's unique lifestyle and noteworthy destinations through its flagship events, established home programs, licensing partnerships, books and International Wine Competition. Sunset is part of the Time Inc. Lifestyle Group.
For the original version on PRWeb visit: http://www.prweb.com/releases/2013/12/prweb11439490.htm