The Bob & Renee Parsons Foundation – GoDaddy "Matching Challenge" Raises $5MM to Help Injured Service Members via the Semper Fi Fund - Page 2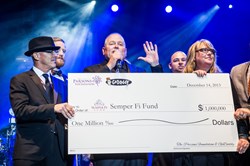 The Bob & Renee Parsons Foundation inspires hope by providing critical funding at critical times to communities striving to make a difference. The foundation primarily focuses on issues in the greater Phoenix area. The Bob & Renee Parsons Foundation believes every person is entitled to an education, good nutrition, medical care, a stress-free, happy environment and the hope that they too, will share in the American Dream. The foundation provides funding to non-profit organizations that are successfully addressing these essential needs. The Bob & Renee Parsons Foundation is also committed to the children of Haiti, helping to grow and improve schools, medical services and overall well-being for communities in rural Haiti through the Hope for Haiti organization.
About GoDaddy
GoDaddy is the world's largest domain name provider, Web hosting provider and new SSL certificate provider, focused on helping small businesses grow larger. GoDaddy provides dozens of cloud-based services and is the largest worldwide mass-market hosting provider by annual revenue according to 451 Research (Mass-Market Hosting Report-Fall 2012) and is the #1 provider of net-new SSL certificates for 2012, according to the Netcraft, LTD Secure Server Survey. To learn more about the company, visit GoDaddy.com/PR.
For the original version on PRWeb visit: http://www.prweb.com/releases/2014/01/prweb11466361.htm