Car Detailing Business Opportunities are "Popping Up" all over the Washington D.C Area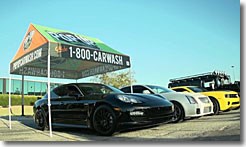 For those looking to go into business for themselves, Pop Up Wash D.C is offering low cost start up packages, to get you started in the cutting edge field of "eco-friendly" automotive care...
Washington D.C (PRWEB) January 17, 2014
If one wanted to begin his or her path to financial independence, starting a business is the only way.
The question then becomes...."what kind of business?", which turns into "how can a person like me afford to start my own business?"......
Well...that answer may be here!
Pop Up Wash D.C is national franchise purchased by a D.C based company Devine Holdings INC. Company co/owner Larry Leigh says "we are giving those in the D.C Metropolitan area who wish to go into business for themselves, a great opportunity to start up at a very low cost"
Pop Up Car Wash is a come-to-you, waterless, Eco-friendly car washing and detailing service, comparable to standard car wash services. The solutions are biodegradable and not harmful to automobile surfaces. The fact that there are no water tanks and heavy machinery, means one can go to their clients anytime and absolutely anywhere...making the potential for profits, immediate and sustainable.
For more information and pricing information for start up packages, contact Larry Leigh or Jelani Wilkins @ 202-230-0365 (local).
The local Pop Up Wash D.C website will be online by February 2014.
For the original version on PRWeb visit: http://www.prweb.com/releases/2014/01/prweb11374071.htm