Former Major League Baseball Player Steve Finley Mobilizes San Diego to Move Full Force Towards Fresh Healthy Vending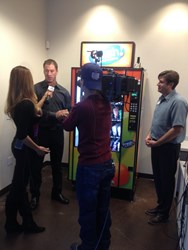 As a board member, advocate and media spokesperson for the leading healthy vending company, Finley teams up with organizations locally and regionally to spread the message of health.
San Diego, CA (PRWEB) February 20, 2014
Fresh Healthy Vending International, Inc. (OTC Markets: VEND), North America's leading healthy vending franchisor, recognizes its recently appointed board member, former San Diego Padres player Steve Finley, today, as he proceeds with initiatives throughout San Diego County to enhance the knowledge and options for healthy snacks in youth, community and corporate facilities.
Since being appointed to the Fresh Healthy Vending board of directors in October 2013, Finley has used his new role as a platform for promoting nutrition and combating childhood obesity.
"Being part of the Fresh Healthy Vending team and the corporate-owned operations division has been incredible, thus far. It has given me enough knowledge to take the important facts about healthy vending options to my own personal and professional contacts and expand these positive programs wherever we can," said Finley. "With Fresh Healthy Vending growing by the day, my role is ever-evolving, just as the company is, and I intend to take on any necessary responsibilities in order to make a positive impact and spread a message we all believe in so strongly."
As one of his recent initiatives, Finley has been working with Supervisor Ron Roberts, who represents the Fourth Supervisorial District and has been pushing for kids and schools to make healthy changes for more than 13 years. Having met several years ago, when Finley was playing for the Padres and Roberts was county supervisor, the two have joined together to integrate healthy vending into organizations like YMCA's, schools and organizations such as San Pasqual Academy in Escondido, which Roberts is heavily involved with.
"Given his background in nutrition and familiar face in the professional sports world, we've graciously asked Steve to act as the company's media spokesperson for opportunities that showcase Fresh Healthy Vending's impact on education and options in communities in which we have a presence," said Alex Kennedy, CEO of Fresh Healthy Vending. "Thus far, he's really 'stepped up to the plate' for us, doing local interviews on KUSI and KFMB News. Steve will also be featured in our upcoming TV commercial, to be shown nationwide, endorsing both the company and healthy products in our machines."
As an outfielder for eight Major League teams including the San Diego Padres and Arizona Diamondbacks, with whom he won the World Series in 2001, Finley is an acknowledged active proponent of good nutrition for athletes and individuals altogether.
In 2006, Finley, a current resident of San Diego, became the oldest player ever to play more than 100 games in centerfield. He knows that better nutrition was a major part of this achievement and still follows the strict nutrition guidelines set forth by his nutritionist, to this day.
For more information on Fresh Healthy Vending, the franchise program, or to receive a free healthy vending machine in your school or business, visit http://www.freshvending.com or call toll free 888-902-7558.
About Fresh Healthy Vending
Fresh Healthy Vending, based in San Diego, California, is North America's leading healthy vending franchisor. Fresh Healthy Vending pioneered the concept of vending machines stocked with tried-and-tested fresh, healthy snack options and capitalizes on a growing market of health conscious consumers. The company has appointed more than 205 franchisees throughout the United States, Canada, Puerto Rico and the Bahamas and is looking to partner with like-minded entrepreneurs who share its vision.
The company offers three different machines: The Healthy Vending Combo snack and drink machine, Healthy Vending Café that brews gourmet hot beverages in less than 40 seconds and the brand new Healthy Vending Touch-the only 46" 3D interactive touch screen vending machine.
The company has more than 2,300 machines installed in schools, universities, hospitals, community centers, military bases, airports, fitness facilities, YMCAs, libraries and many other types of locations.