Getting Personal: Irish Jewelry Store 'Celtic Promise' to Expand their Personalized Jewelry Range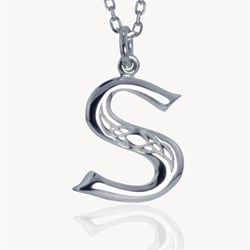 Leading Irish jewelry retailer, CelticPromise.com, is responding to customer demands for personalized jewelry by adding new hand-crafted customizable designs to their online store.
New York, NY (PRWEB) February 21, 2014
From Sarah Jessica Parker's "Carrie" necklace, to Katie Holmes wearing a simple "S" initial pendant for daughter Suri Cruise - the trend for personalized jewelry is here to stay. Leading Irish jewelry retailer 'Celtic Promise' aims to build on this ongoing trend by increasing their range of personalized and customizable jewelry in their online store.
As a mother of three small children, the trend is of particular interest to Celtic Promise co-founder Síofra Hill. "Whether you have a new baby or have a big brood of kids, there is no better way to keep them close to your heart than with a personalized pendant".
Hill's top picks include their new range of Pretty Letter Pendants by Dublin based designer Joseph Harbourne. Based on the ornate lettering found in the famous Celtic manuscript 'The Book of Kells', these pendants are something a little different from the usual block letter pendants that saturate today's market.
The store also stocks very popular Family Birthstone Pendants which can be customized with a choice of number and type of birthstones to match individual customers' lives. "The birthstone pieces are particularly popular with customers seeking out more subtle personalized jewelry" says Hill whose store's understated, elegant designs appeal to an international audience.
For the design conscious out there, Hill recommends a personalized Ogham Engraved Pendant by Dingle based designer Brian De Staic. These pendants are reminiscent of the popular army dog tags, but with a slimmer, more elegant finish and are customized with a Morse-code like series of dashes and lines - aka Ogham, the ancient Celtic linear script.
In addition to existing jewelry designs, the store plans to continue to build on this range throughout 2014. "We are speaking with a number of great new designers right now" says Hill "and plan to announce more on our website and social media very soon".
Discover more at CelticPromise.com.
About Celtic Promise
Founded in 2010, online retailer Celtic Promise was started by Irish born entrepreneur Siofra Hill. The website CelticPromise.com promotes the talents of Irish jewelry designers to an International audience. With a product offering of over 700 traditional Celtic jewelry and contemporary Irish jewelry products, Celtic Promise has quickly become one of the leading Irish jewelry companies selling online in the US and Internationally.
For the original version on PRWeb visit: http://www.prweb.com/releases/CelticPromise/PersonalizedJewelryTrend/prweb11602440.htm