RIT MAGIC Center and e-NABLE Use Solidoodle Desktop 3D Printer to Make Prosthetic Hands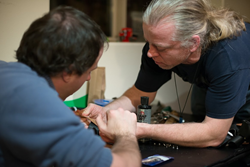 Solidoodle supports the work of e-NABLE and Rochester Institute of Technology to make custom prosthetic hands accessible to underserved communities through 3D printing.
Brooklyn, NY (PRWEB) May 01, 2014
Desktop 3D printer manufacturer Solidoodle is proud to support the efforts of e-NABLE and the Center for Media, Arts, Games, Interaction & Creativity (MAGIC Center) at Rochester Institute of Technology to develop solutions to make prosthetic hands more accessible for underserved communities. Solidoodle will provide RIT with a Solidoodle 4 3D printer and materials to assist their research and development on the Helping Hands Service Station, which is being developed for e-NABLE-related research, development, training, and service. The concept station will be tested at RIT's ImagineRIT Creativity and Innovation Festival in Rochester, New York, May 3rd.
"The work that e-NABLE's members have been able to accomplish in a short period of time is a great example of how technology, and specifically 3D printers, is allowing generous people around the world to volunteer their time and skills to collectively research, design, and implement solutions to make the world a better place," said Solidoodle CEO Sam Cervantes. "I'm excited we're able to be part of it."
The Helping Hands Service Station is part of MAGIC's Access and Collaboration Technology initiative (Magic ACT), which aims to adapt and invent tools and technologies to amplify collective problem-solving, address emerging opportunities such as education and assistive technology, and explore the ramifications of such work on design, development, collaboration, and industry.
"One need look no further than the pictures on the e-NABLE site to understand the impact these technologies can have. It's easy to forget, at times, the role of research in solving problems and promoting real-world impact, but one look and you know this is critically important," said Director of the RIT MAGIC Center Andrew Phelps. "The generous gift from Solidoodle will allow our researchers and students to experiment, design, and collaborate much more extensively with the e-NABLE movement. Everyone at MAGIC is excited about our progress to date, and we look forward to future contributions that this gift will allow."
e-NABLE Founder and RIT MAGIC ACT research scientist Jon Schull says, "When e-NABLE was started just a year ago, we described it as 'a global volunteer assistive technology network built on an infrastructure of electronic communications, 3D printing and good will.' Solidoodle's good-willed donation will enable parents, university students and children to learn how to create ever-better artificial hands for an ever-better global village."
For more information regarding the ImagineRIT festival, visit rit.edu/imagine.
About e-NABLE
e-NABLE is a global volunteer assistive technology network built on an infrastructure of electronic communications, 3D printing and good will. Its community of 750 designers, technologists, and researchers seeks to bring inexpensive 3D-printed prosthetic devices to underserved communities around the world. For more information on e-NABLE, visit enablingthefuture.org.
About Solidoodle
Solidoodle, founded in 2011 by aerospace engineer and 3D printing industry-veteran Sam Cervantes, builds affordable and easy-to-use 3D printers for both professional and consumer use. Built in Brooklyn, New York, more than 10,000 Solidoodle 3D printers have sold to customers around the world. For more information about Solidoodle, please visit Solidoodle.com.
For the original version on PRWeb visit: http://www.prweb.com/releases/Solidoodle/140501/prweb11816756.htm